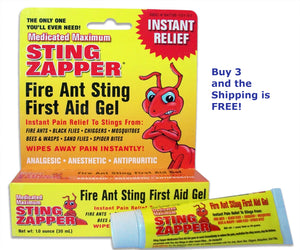 Fire Ant Gel Special Offer – Buy 3 and the Shipping is FREE!
Regular price $39.80 $29.99 Sale
Venomous fire ant bite and will bite and sting an estimated 68-million of people causing extreme pain and irritation. But thankfully there is relief with Sting Zapper!
It is an amazing fire ant bite treatment … you can feel the cooling difference the moment it contacts your skin! The uni
que Sting Zapper! Medicated Fire Ant Bite Treatment Gel starts to work immediately
to neutralize the Fire Ant bite sting venom, relieve the pain, discomfort and itchiness from stings associated with Fire Ants and other venomous creatures.
Sting Zapper is a complete Fire Ant Bite treatment
Sting Zapper Fire Ant Bite Treatment actually neutralizes the venom from Fire Ant Bite with its powerful enzyme "anti-venom" t
echnology, which in turn reduces or stops the body's allergic reactions.  You feel immediate relief with reduced swelling and inflammation.
Powerful medication utilizes our proprietary Soleozyme technology that actually neutralizes the pain causing venom – on contact!
Micro-bead-let in gel base to re-open bites / wounds to allow medication to penetrate deep inside.
Instant pain relief – cools & moisturizers to soothe the skin
Aloe Vera Gel, herbal cleanser, cleans and heals.
Tea Tree Oil, natural antiseptic kills bacteria.
Menthol and Camphor, reduces swelling, kills pain…FAST!
The technology that makes Sting Zapper Fire Ant Bite Treatment first aid gel so effective and distinguishes it from other first aid products is two-fold:
1) a proprietary enzyme formulation technology called "Soleozyme" designed to neutralize the venom of various types of insect and other venomous bites and stings and retain its potency for years;
2) a method of delivering, deep into the wound, these venom-neutralizing enzymes and other healing ingredients. 
 Sting Zapper has a Unique Delivery Technology
When a Fire Ant bite and stings you–its stinger penetrates deep into the skin injecting its powerful venom creating tremendous pain.  This wound is microscopic in size, and the body is very quick to close it.  But now the body begins to reject the stinging venom by sending soldiers to fight off the intruders (histamine) which cause pain and swelling … the pain can last for hours.
Sting Zapper works to neutralize the venom, by reopening the wound so the anti-venom enzymes can be inserted and penetrated the affected area.  This is why many products that are simply applied topically do little more than provide temporary relief of pain.  They do not neutralize the venom and stop the allergic reaction.
In a recent clinical study, patients experienced immediate pain relief from Fire Ant stings by using Sting Zapper! The medicated solution in Sting Zapper! Neutralizes the poisons and delivers pain relief and a cooling medication that works to reduce redness and inflammation.
The study shows – Sting Zapper! Works…
Each Tube is filled with a one-fluid ounce of sting gel for many applications of Sting Zapper Gel… Just right for your Purse, First Aid Kit, Glove Compartment, Picnic Basket, Lunch Box, Tool Box or whatever you application…You need Sting Zapper.
Perfect for your Beach Bag, Dive Bag, Glove Compartment, First Aid Kit – Gel is Stable even in high humidity and extreme heat conditions. You are going to LOVE having Sting Zapper in your bag.
"Sting Zapper! products were found to be the most effective sting treatment of the three agents tested in the reduction of pain"
Dr. Bruce Halstead, Director International Biotoxicological Center, World Life Research Institute
Indications:
For the relief of pain and itching associated with Fire Ants, Black Flies, Chiggers, Mosquitoes, Sand Flies, Spider Bites and other insect bites.
Directions:
Adults and children 2 years of age and older: WITH CLEAN HANDS REMOVE STINGERS IF POSSIBLE, apply Gel to affected areas, then begin to SCRUB VIGOROUSLY IN A CIRCULAR PATTERN, CLEANSING & EXFOLIATING AREA, ALLOWING MEDICATION TO PENETRATE DEEPLY. CONTINUE SCRUBBING UNTIL IRRITATION SUBSIDES.
Go back over affected areas until pain, itch or irritation subsides.  Repeat if necessary.  Wash and remove DRY gel residues with clean water until affected areas have been completely flushed clean. Pat dry with a clean towel, or allow to air dry.
KEEP OUT OF THE REACH OF CHILDREN. AVOID CONTACT WITH CLOTHING.
The Very Best Fire Ant Bite Treatment – Sting Zapper!